It's simple, our offer is, let us use 60 x 50 centimeter of your floor space and a wall outlet and we give you happy people and 25,000 baht per year - at least!
What the catch you may think? Well non in our opinion.
We provide one (or more depends of the volume) of our handy, modern designed vending system serving hot drinks developed from first class raw material.
We take all costs and you will get commission on every sold cup giving at least 25,000 baht per year*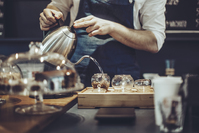 And the best part, you don't have to care about it either - at all! We take care of everything, we fill water, powder, make service and cleaning, all included and at no cost at all. And we bring a new one within 4 hours if it for some reason stop working.
The only thing we need from you is a 60 x 50 cm floor space and a wall socket at an area where people circulating in numbers that make a sell of at least 20 cups per day possible*.
* To qualify for First Coffee Vending System the average minimum sale per month of 600 cups (20 cups per day). If minimum quantity of sold cups not reached within 90 days we take the system back without any charge or liability for the customer. We also pay the electric at 3,5 baht per kWh.